Want to Earn Thousands Every Time You Speak?
Jack Canfield, LVCSB President Robin Jay, Marci Shimoff, and John Gray on the red carpet at the VIP Premiere of "The Keeper of the Keys"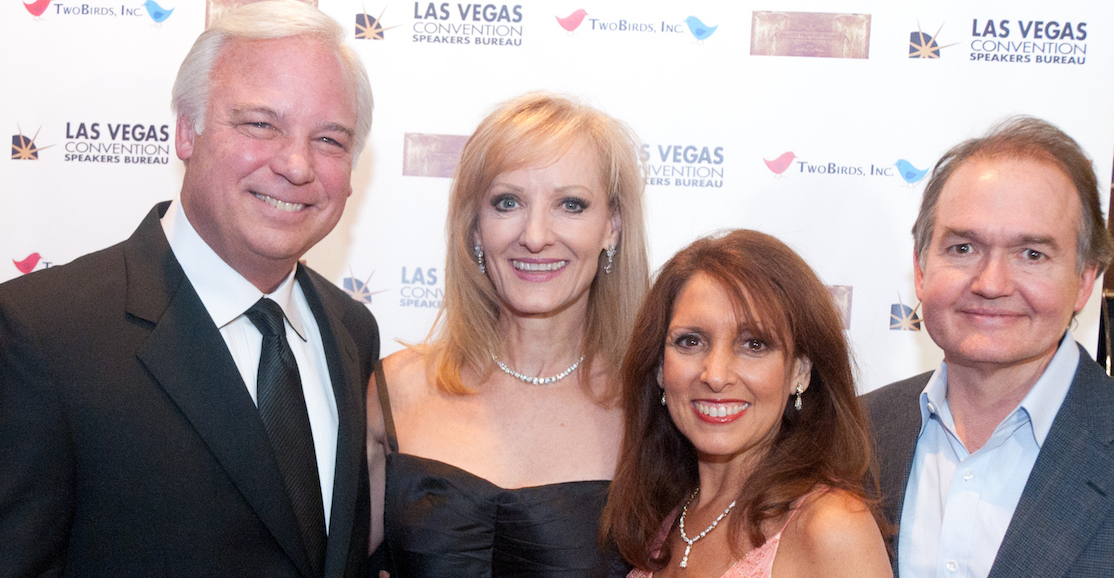 One of the fastest ways for speakers like you to earn thousands every time you speak is to understand how the speaking industry actually works! If you're an author interested in promoting your book, the next step is to become a successful, paid speaker. Being supported and promoted by speakers bureaus can certainly help!
Unfortunately, the majority of speakers bureaus won't list a speaker unless that speaker is already listed with other bureaus (or they are the latest guest on a network television show … or they have a million followers on their social media accounts!) It's a real "Catch – 22"; Many bureaus don't have the courage necessary to believe in new talent.
I do. I remember what it was like when I started out – speaking for a few hundred dollars (or for FREE!) Today, my fee is $15,000 for a 50-minute keynote presentation. I have been in your shoes before and I know the value of having the support you need. I'm Robin Jay. As President and Founder of the Las Vegas Convention Speakers Bureau, I'm in the unique position to pull back the curtain on the speaking industry and show you what it really takes to succeed; you're in for some surprises along the way!
Speakers & Authors
Perhaps because we can all write and talk, we think we can be authors and speakers … and we CAN!  But, to become really successful at it, we have to understand how the industry works. It's different when you try to convert your passion for storytelling into a career where you can earn six figures, earn thousands every time you speak, and live the life of your dreams! That's why I created "INSIDER'S SECRETS: Keys to 6-Figure Speaking." I want to show speakers like you how the industry works so you can achieve your greatest success.
Please CLICK HERE to visit the Insider's Secrets page on this site to watch my FREE video, "Introduction to INSIDER'S SECRETS: Keys to 6-Figure Speaking." You'll discover why I created this 8-week crash course for speakers. It includes how to skyrocket your speaking career, avoid making costly mistakes, earn a Certified Convention Speaker designation, gain greater understanding about how books and speaking go together, and get listed on a special page on the LVCSB.com exclusively for C.C.S. designated speakers!
The "Insider's Secrets: Keys to 6-Figure Speaking"  course is a game-changer for ALL speakers … whether you're just starting out or you've been speaking for years. If you're not earning what you want to as a speaker, let me help you. Together, we can monetize your speaking career and help you to start earning thousands every time you speak! As a speaker, award-winning author & filmmaker, and President and Founder of the LVCSB, I know what it takes to succeed. Let me show you the way!
Helping you to earn thousands every time you speak is my goal!
Click here to visit LVCSB.com/insiders-secrets and watch my FREE, game-changing video now!